We are pleased to announce that the University Guest House is now available in UShop. Enabling the Guest House will increase efficiency for campus departments and is an integral part of the plan to eliminate the paper Campus Order form. Use the custom-built UShop forms to:
Pay for room reservations for visiting guests
Pay for events/conference venues
Using UShop for these orders provides key benefits to both the ordering department and the Guest House, including:

Electronic, paperless ordering
No need to prepare, sign or deliver a paper Campus Order
Departmental approvals are up-front and integrated with GFA
Transparent workflow—see where your order is at any time
No subsequent reallocation or reconciliation needed
Your UShop order is viewable directly from Web Management Reports
Invoicing is handled by Guest House—no need to worry about payment processing or sending info to Accounts Payable
Where can I find these new forms?
These new forms can be found on the Shopping home page in the "Place an Order" section: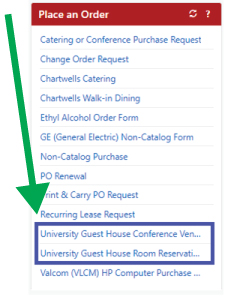 More Info and Instructions
Over the next several months, the Guest House will phase out the use of the Campus Order in its processes. Note: The PCard and eJE will continue to be accepted for University Guest House purchases.